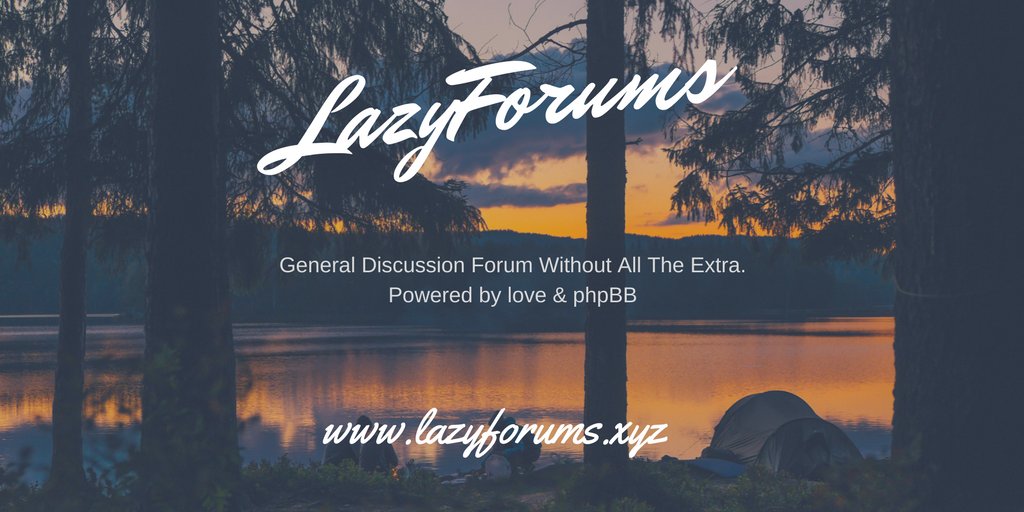 Why Join LazyForums?
LazyForums is a small general discussion forum where users can chill, relax and discuss their favourite topics with others. We are a laid-back and friendly community of members looking to put our tools down after a hard days work. 
I wanna join....how do I get started?
You can register a new account here -
Register
Do you have any boring rules we have to follow?
When creating this community I have tried to ensure we have as few rules as possible to ensure everyone has a good time. However we do have some essential rules to ensure that EVERYONE can have a good time at LF:
English - everyone must type in English. This is to ensure that everyone can participate in discussions and to ensure our moderation jobs are easier as we're lazy slobs
No illegal content - Any illegal content will be deleted immediately and reported to any authorities if necessary
Be nice - Any that is found to be bullying or harrasing others will be banned from the community
Signature
Signatures involving advertising other sites are permitted. However signatures are blocked from public view until you reach a total of 10 posts
Anything else?
I hope you enjoy the community and have a great time here at LazyForums. If you have any questions do not hesitate to contact me